Smithsonian Then and Now
The Smithsonian was founded in 1846 thanks to James Smithson, who left his estate to the United States to create "under the name of the Smithsonian Institution, an establishment for the increase and diffusion of knowledge." A lot can happen in 171 years. Take a moment to travel through time with us exploring the Smithsonian then, and now!
The Smithsonian Institution Building (now known as the Smithsonian Castle) was completed in 1855. This rendering, from 1848, shows the north facade of the Castle after the design by architect James Renwick, Jr.
Rendering of the North Facade of the Smithsonian Institutional Building, or Castle, H. C. Moore, 1848, SIA Acc. 16-126, Box 24 - National Museum of Natural History (U.S.), Photographic Collection, 1959-1971, Smithsonian Institution Archives; Smithsonian Institution Building North Entrance, 2018.


The main floor of the Smithsonian Castle now serves as the Institution's Visitor Center, but it originally housed research offices, exhibit halls, chemical laboratories, storage areas for specimens... and even dormitories!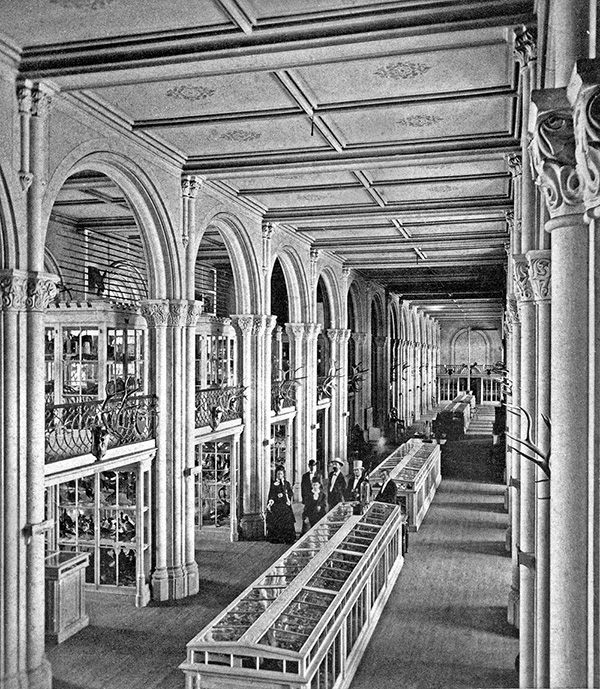 Visitors to Lower Main Hall, Smithsonian Institution Building, 1867, Smithsonian Institution Archives.


The Smithsonian castle has also been host to several live animals over the years! Two owls, named "Increase" and "Diffusion" once lived in the West Tower, and two American bison lived in a paddock in the South Yard behind the Castle from 1887 to 1889.
Owls, named "Increase" and "Diffusion", Smithsonian Institution Archives Record Unit 371, Box 2, Folder: June 1977.
Buffalo behind Smithsonian Institution Building, Smithsonian Institution Archives, Record Unit 95, Box 30A, Folder: 19.


Although it doesn't look like much has changed over the years in the garden outside the Castle, there are now two museums – the National Museum of African Art and the Arthur M. Sackler Gallery – whose buildings extend underneath these gardens.
Victorian Garden Behind the Smithsonian Institution Building, 1976, Richard Farrar, Photographic print, Smithsonian Institution Archives; Smithsonian Castle and Garden, 2010.


While the Smithsonian started off as just the Castle building on the National Mall, it has now has grown into the world's largest museum and research complex, with 19 museums, the National Zoo, research centers and cultural centers.
While some things have certainly stayed the same over the past 171 years, there have been tremendous changes.
With your help, the Smithsonian will continue to grow and evolve throughout the 21st century, making new discoveries, tackling new challenges, and asking and answering the biggest questions about our people, our planet and our place in the universe.