The Smithsonian was founded in 1846 thanks to British scientist James Smithson, who left his estate to the United States to create "...under the name of the Smithsonian Institution, an establishment for the increase and diffusion of knowledge..."

A lot can happen in 173 years! Take a moment to travel through time with us exploring...
Smithsonian
Then

and

Now
The
Smithsonian Institution Building

(now known as the

Smithsonian Castle

) was completed in 1855. This rendering, from 1848, shows the north facade of the Castle after the design by architect James Renwick, Jr.
See how well Renwick's original design matches the Castle today!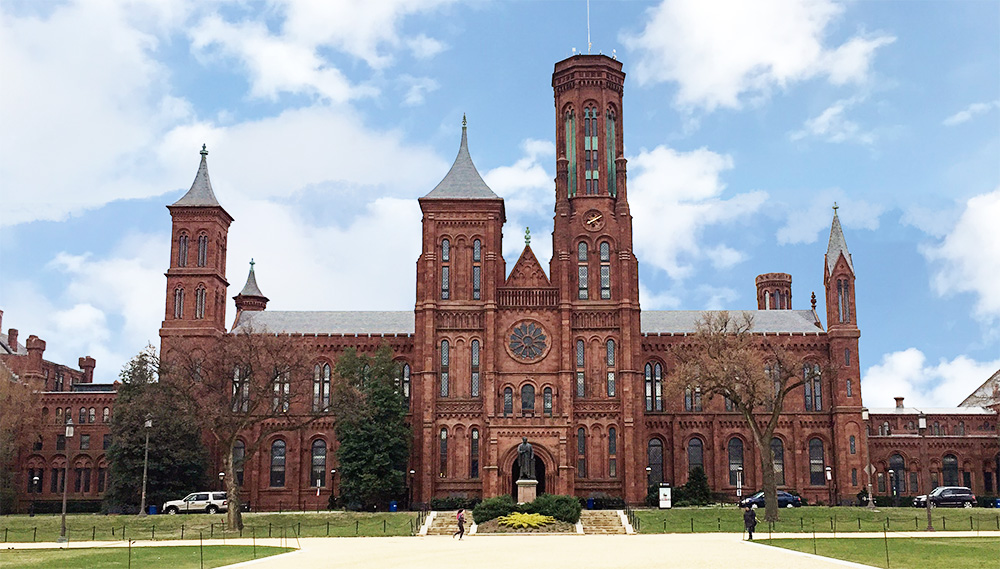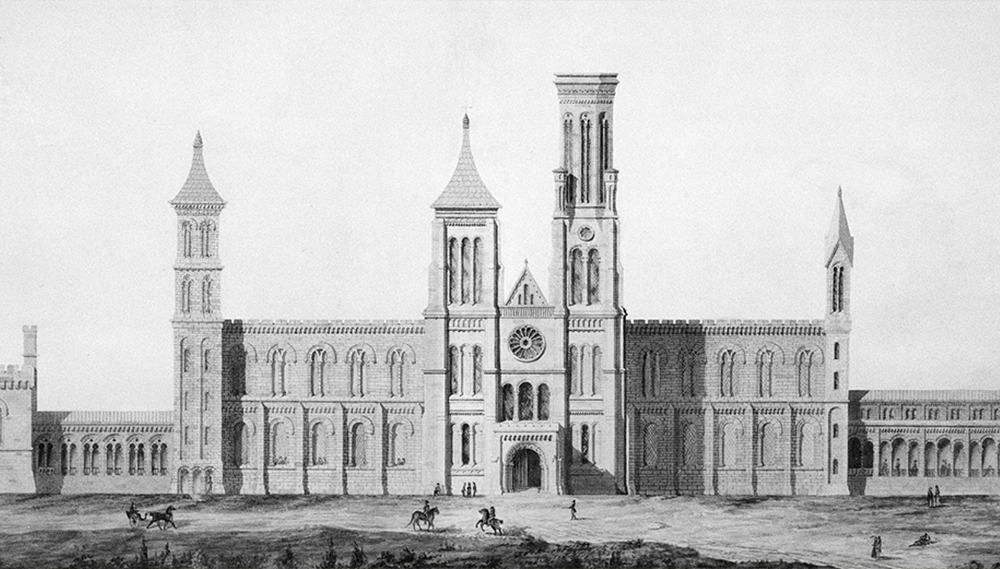 Rendering of the North Facade of the Smithsonian Institutional Building, or Castle, H. C. Moore, 1848, SIA Acc. 16-126, Box 24 - National Museum of Natural History (U.S.), Photographic Collection, 1959-1971, Smithsonian Institution Archives; Smithsonian Institution Building North Entrance, 2018.


When the Smithsonian Castle was completed in 1855, it held the interest of the public for many years. A Washington music teacher, W. Bergman, even composed the "Smithsonian Polka", inspired by the Smithsonian Castle!

Music has continued to inspire staff and visitors alike, and this year we are celebrating the Smithsonian Year of Music with 365 days of music at the Smithsonian – ranging from live performances and concerts, to exhibitions and collection objects.


Listen to the Smithsonian Polka, performed by Michael Hendron:


In 1858 all of the government's collections were transferred to the Smithsonian. The entire collection was housed together in the Smithsonian Castle and then in the Arts & Industries building next door, until the first specialized museum – National Museum of Natural History – opened in 1910.
In June, the National Museum of Natural History's Fossil Hall – Deep Time reopened after a five-year renovation.
1930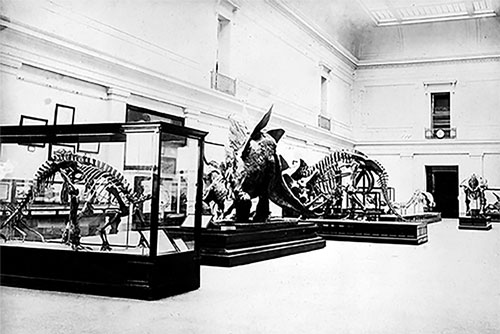 Two Dinosaur Skeletons and the Stegosaurus Papier Mache Model, Smithsonian Institution Archives, 2005-2927, Created by United States National Museum, "Two Dinosaur Skeletons and the Stegosaurus Papier Mache Model", 2005-2927, Retrieved on 2019-06-12
2019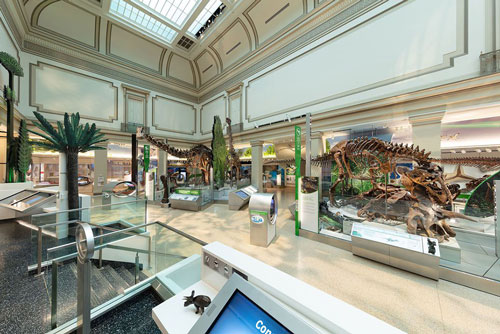 The "Hall of Fossils – Deep Time", Photo by Lucia RM Martino, Fred Cochard, and James Di Loreto, Smithsonian Institution.


Over the years, the Smithsonian has worked to leverage the latest technology of the time to help achieve our mission to create and share knowledge. In 2009 the Digitization Program Office (DPO) was founded to increase the quantity, quality and impact of the Smithsonian's digitized collections. To date, 32 million objects have a digital record.

Explore the 3D model below of this T. rex skeleton posed over a Triceratops horridus. This dynamic mount is the focal point of Deep Time.


In 1984, the Smithsonian made its public television debut with Smithsonian World on PBS – a series with intertwined segments that mixed the sciences, arts and humanities. The show, which lasted for six seasons, focused on the Smithsonian's work beyond the National Mall, and shed light on scientific fields that were otherwise hidden from public view.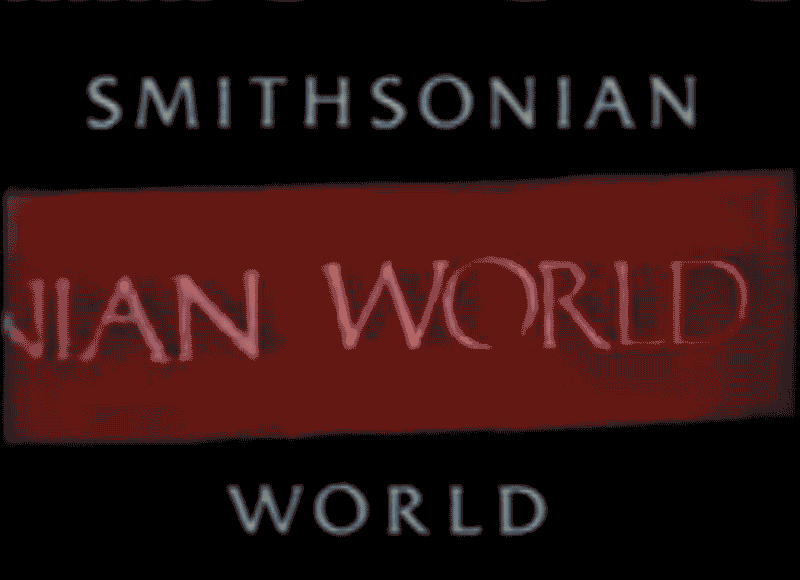 Excerpt from Episode 108 ("A Desk in the Jungle") of "Smithsonian World." Host David McCullough interviews University of California physical anthropologist Katharine ("Katie") Milton at the Smithsonian Tropical Research Institute in Panama about her research on howler monkeys.


Smithsonian World also gave special attention to female scientists, something unusual during an era when most other television science series were hosted or narrated by men. The inclusion of female scientists helped encourage young viewers to dream of being scientists – regardless of gender.


Today, the Smithsonian increases the visibility of women's stories and achievements through the Smithsonian American Women's History Initiative – Because of Her Story. With a digital-first focus, the initiative amplifies the diversity of women's voices throughout the Smithsonian's many museums, research centers, cultural heritage affiliates and wherever people are online.

Click the cards below to read each woman's story!
I used my marbles.
Maya Lin
Sculptor, Architectural Designer

I EXPLORE how we experience and relate to nature, setting up a systematic ordering of the land, tied to history, memory, time and language.

My art is an ode to nature. The Chesapeake Bay is a favorite. It is intricate and meandering and has been changed by human activity. But, nature is resilient.

To represent its beauty and fragility, I studied satellite images and historical maps for Folding the Chesapeake, an installation of 54,000 marbles. Through this work, I hope to motivate people to protect the bay as a vibrant life force.

"Folding the Chesapeake" is at the Smithsonian. It will be used to tell Maya Lin's story and other women's stories of their passion to protect nature.
I took a seat at the table.
Muriel Siebert
Financier

I ARRIVED IN New York with $500, a used Studebaker and a dream. As a financial analyst, I earned 60 percent of what men were paid. I asked a client where I could go to find equal pay. He said, "You won't. Buy a seat. Work for yourself."

My application for a seat on the New York Stock Exchange turned Wall Street upside down. Never had a woman applied.

I bought the seat. In 1967, I was the only woman among 1,365 men. Within six months, I had a legitimate office. You have to have faith in yourself and believe "I can do it."

Muriel Siebert's portrait is at the Smithsonian. It will be used to tell her story and other women's stories of challenging the rules.
I knew what mattered.
Vera Rubin
Astronomer

HOW COULD YOU possibly live on this Earth and not want to unravel the mystery of the cosmos?

I didn't know a single astronomer. But, I really wanted to study astronomy, and I needed a scholarship to go to college. I applied to three places. One of them was Vassar.

The day I was notified I got a scholarship, I walked around the halls, and I met Mr. Himes, my physics teacher. I told him I had a scholarship to Vassar. And he said, "As long as you stay away from science, you should do okay."

Vera Rubin's spectrograph is at the Smithsonian. It will be used to tell her story and other women's stories of pursuing ambition and reaching for the stars.
I was a step ahead.
Mary Church Terrell
Suffragist, Civil Rights Leader

COLORED WOMEN have always had high aspirations for themselves and their race. From the day when shackles fell from their fettered limbs till today, as individuals they have often struggled single handed and alone against the most desperate and discouraging odds.

But it dawned upon them finally that individuals working alone would accomplish little compared with the possible achievements of many individuals, banded strongly together throughout the entire land, with heads and hearts fixed on the same purpose.

Mary Church Terrell's portraits are at the Smithsonian. They will be used to tell her story and other women's stories about the struggle for equal rights.


While the Smithsonian started off as just the Castle building on the National Mall, it has now has grown into the world's largest museum and research complex, with 19 museums, the National Zoo, gardens, research and cultural centers, traveling exhibitions, affiliate museums and countless programs and initiatives.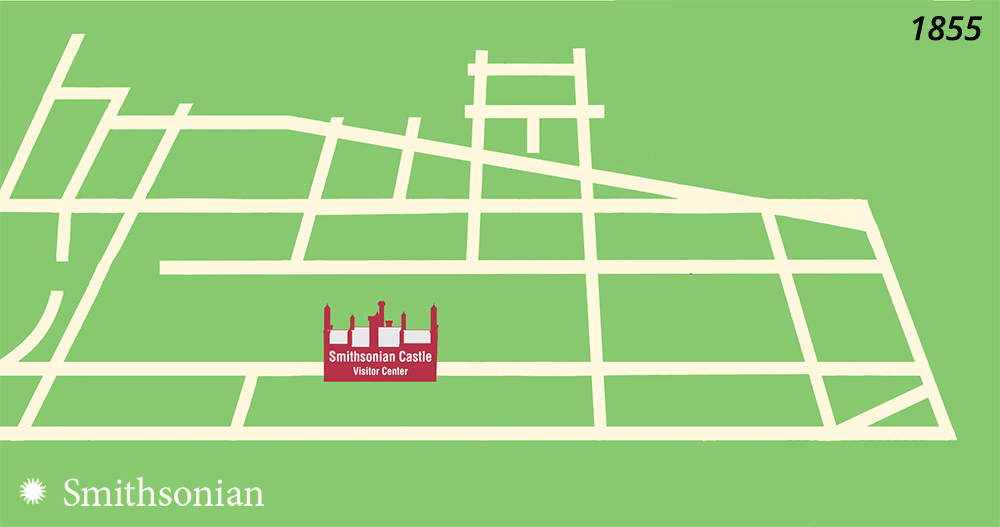 What will the next 173 years bring for the Smithsonian? Only time will tell.
With your help

, the Smithsonian will continue to grow and evolve throughout the 21st century, making new discoveries, tackling new challenges, and asking and answering the biggest questions about our people, our planet and our place in the universe.
Tell us about your favorite Smithsonian story from the past or present – or a future visit you have planned!